Amazon Bundle Software 2018
|
How to Use Amazon Bundling Software with FBA
Learn about a ground-breaking Amazon Bundler software that allows sellers to take products you already offer using Fulfilled by Amazon (FBA) and connect these to fulfill your "virtual" Merchant Fulfilled (MF) bundle listings!
EASY Steps with Instructional Videos to help you get started:
Step One to Creating Bundles:
Go into your Seller Central Account. Create a wide variety of mix and match combination bundles (a new ASIN consisting of different SKUs) from your FBA products. Also consider adding multi-packs as variations (the same product but a variance of size, quantity, or color). These show up beneath your existing listings, where the customer can immediately see them. Create items that will enhance the customer experience in accordance with Amazon Terms of Service (TOS).
For example, if you have FBA listing A, B, and C, now you can add Merchant Fulfilled bundle listing A+B, bundle A+C, bundle A+B+C, and so on. Create as many variations as you like.
*But…. now you may be thinking, I don't want to be bagging multipack products together from my home! That's not passive income. This brings us to Step 2.
Step Two:
The bundler software is the connection between your MF and FBA listings. When the customer orders your MF Bundle A+B or a variation pack, the software connects the order to Amazon and uses AMAZON FBA items to complete the shipment. Amazon packages the box by grabbing from your FBA stock.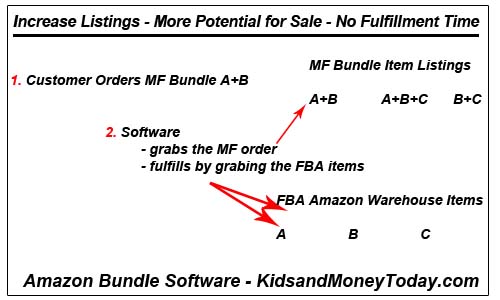 HUGE Benefit
The biggest benefit is the combination of time saved along with the opportunity to create numerous unique listings. The two factors are inter-linked, compliment each other, and grow exponentially. The more bundles created, the more time saved as orders begin shipping.
It's as if you have virtual FBA listings because your MF Bundles were never packaged together and never shipped to Amazon warehouse at all. Product bundling might be the smartest move to boost sales this year. You easily win the Buy box and save on Amazon warehouse storage fees!
Amazon Bundling Manually – NO MORE
Watch this video clip to understand why before this software, many people avoided bundling.
– You won't have to be this guy 🙂
[svpVideo v=1]
*Video is clipped to save you time. It's only to show you the OLD way of bundling.
With this software, you can choose to NEVER manually bundle again.
No shrink wrap
No ziplock baggies
No FNSKU labeling
No extra shipping
Amazon Bundle Software Access
**Serious Sellers ONLY Please**
At this time, the software will only work for Amazon.com uses (Amazon USA) but updates are in the works for Amazon.ca, Amazon.uk, Amazon.de and so forth.
Sign up for our Amazon Bundler Tips mailing list:
Gain access to the bundling software
This is literally like having a virtual assistant working for you.
Learn more about virtual listings from someone who ACTUALLY USES this!
Private Facebook group available to answer questions.
The following two tabs change content below.
KidsAndMoneyToday
Tracy Foote
Author | Writer | Entrepreneur | Internet Marketer "I'm enthusiastic about helping people in business and finance — so they can have money available for college, retirement, and travel."
Latest posts by KidsAndMoneyToday (see all)