FanPrint Print on Demand (POD) T Shirt Business Review
|
FanPrint Scam or Legit Business Income Opportunity?
FanPrint, from Dallas is the new POD platform on the block. This e-commerce startup grew from the desire to connect athletes with fans and has a focus of clothing apparel gear. The business model is similar to Zazzle and other print on demand sites in that it permits graphic designers to create shirts by uploading their digital format designs.
They have negotiated to create OFFICIAL MERCHANDISE t-shirts!
If you're experienced with POD, this is enough information, and you're ready to press forward, signup under my invite only referral link by CLICKING HERE TO APPLY.
Jobs for Students
How about those college students in need of money? (NOTE: You must be 18 years or older to use FanPrint.) Young adults can create shirts using their school graphics of favorite sports team and submit them for approval. Best part is — FanPrint takes care of all the license approval!
From a marketing perspective, this may be a fairly easy way to begin making money online or starting a work-at-home job. Pick a team or university that you are passionate about and begin promoting clothing already created. Next step, grow to the next level by designing yourself or hiring an artist.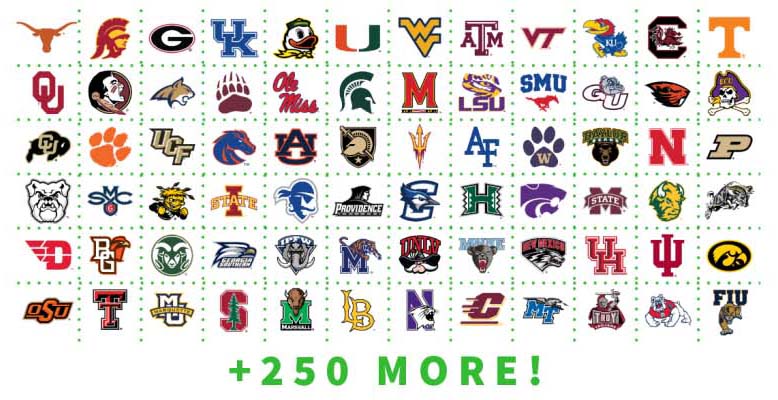 Show Me the Money
We're including images here so you can quickly get the gist of the potential income growth you might have with FanPrint.
*IMAGE CURRENT AS OF April 2017*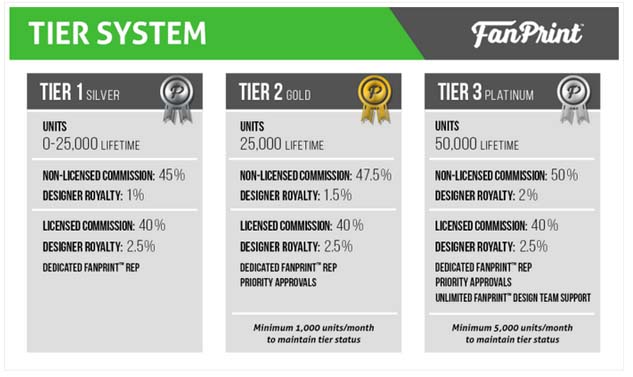 Let's focus on the licensed designs – meaning apparel for official teams and colleges. (You can upload your own designs – read more about that later.) We think the FASTEST income will be generated from promoting designs already created by others or making your own designs using official logos.
LICENSED DESIGNs (Schools and Teams) COMMISSION TIER
40% on every sale completed
2.5% Royalty if you are the designer on any sale
So we can see the focus is rewarding the promoter, the greatest commission goes to the person who brings in the person to BUY.
Let's just focus on how YOU CAN make money using FanPrint, the pros of a FanPrint account.
For kids (and adults) who are not designers, this is a huge income opportunity. We already know there is a demand for NFL (think Dallas Cowboys and Colts), NCAA, MLS, Nascar Racing, INDY Car, Colleges and University schools, Greek Life, Military (Air Force, Marines, Army, Navy, Coast Guard). and even TV Shows (like Fox Network's Family Guy) or Movies (like Star Wars).
Since we have demand, students who need a job can simply open an account and begin promoting fan gear through their social media discussions! Let the cash roll in – haha!
Of course, it's not EASY MONEY – nothing ever is. Sellers will have to do all the typical things required when starting a business, but this is something to check out if you are just beginning or expand into to widen your income sources.
They haven't said if they will limit the number of accounts, as Amazon does with it's Merch by Amazon program. People are now waiting months for account approvals. So with this in mind, I recommend you sign up today if you think FanPrint sounds interesting enough to check out.
Here's my "invitation only" link again: Click Here to GET ACCESS.
10 Tips You NEED to Know to Sell FanPrint TShirts
AGE: You must be 18 years of age. (*This means PARENTS must own the account and be sure to monitor any of your "minor child" employees.)
CONVERSIONS: LICENSED Design Sales must convert on FanPrint. This means you CANNOT sell on eBay or Amazon or Etsy or ??? because those sites collect payments and they are not approved for the license use. Shopify, if you are linking directly to FanPrint so check out occurs on FanPrint, that should be acceptable. For Example: T-Shirts we link to on this site complete the sale on FanPrint. The payment gateway is FanPrint.
TRAINING VIDEOS and TEMPLATES: How to run campaigns, use templates and more to help you advertise gear. They provide some templates to get you started with ads, for example: a shirt with a brick wall background.
STOREFRONT SEARCH: You can open as many storefronts as you like. There is no Search feature in a store, so consider creating stores for particular niche areas. Imagine if you add 1,000 tees to your custom FanPrint store and the user had to scroll and scroll. A better approach is to market one store with maybe 25 shirts.
NO BROKEN LINKS: If Designers change their t-shirts from Public to Private, your outbound links from your blog or social media post will remain in tact with referral codes.
SOCIAL MEDIA RETARGETING: Your backend is set up to collect and connect with retargeting information, such as pixels and email collection, and eventually a Facebook connection to monitor FB campaigns.
TEAM ACCESS: If you have staff or need to outsource as you grow, they are already set up for team access.
RETURNS and REFUNDS: Their 30 day return policy as of April 2017 also states:

In general, since we print products on demand, we normally do not offer returns or refunds because each product is custom made. However, there are definitely exceptions, especially if there's an error with your order.

This means there should be few returns, which means more commissions for sellers.

SALES CONTESTS: If you remember way back, when Zazzle had an awesome high Volume Bonus Program, FanPrint is thinking of us. They will have sales contests to reward high performers. Looking forward!
PERSONAL REP: You are assigned a rep to help with all your questions and to help you start quickly. We prefer using email instead of a customer service phone number, because then we have notes to refer to. (Where do you think the ideas for this post come from? LOL)
10 Tips for FanPrint T-Shirt Designers
Let's review this e-commerce platform from a "designer" or "artist" perspective:
PROVIDED LICENSES: No copyright issues for you. This is so awesome!
TRAINING VIDEOS: How to upload a design and more to help you along.
PROVIDED LOGOS: They are looking for serious experienced clothing designers. Files provided work best in Photoshop or Adobe Illustrator. You can upload PNG or EPS files to create listings.
PRINT BOTH SIDES, COLORS, STYLES, and CROSS SALES: You can design on both sides of the tee shirt and choose the colors and styles to offer, as well as deciding to offer an upsell or cross-sell of stickers.
SECRET CAMPAIGNS: Campaign is the term used for your live listing, your selling page. You can make these listings secret if you are concerned about other people out marketing you and you want to keep the 40% commission reserved to only your company.
PRICE FLOORS: There is a limit to how low you can price your tee or hoodie.
PRODUCTION PROCESSING TIME: As more people join, the wait time for design approval will most likely increase. FanPrint has to connect with the marketing license reps for each agency to get approve each design. This means, it will be hard to get spontaneous designs live quickly (such as a design related to winning a game).
PERSONAL REP: In case you skipped reading above, you are assigned a rep to help answer your questions.
SEO and RANKING: Similar to other custom apparel sites, you can create custom URLs and add tags to help your tshirt rank in Google. There's already people searching for "FanPrint Coupons" so the word about this start-up is getting out/
NON-LICENSE T-Shirts: Have you sold designs on other platforms? A non-license tee is your typical shirt: I love dogs, I love coffee, etc. that does not need any special approval to post. You are welcome to upload these shirts to FanPrint as well. They have a Search drop-down menu to search their site by category, as shown in the image below:

Don't miss a post: SUBSCRIBE HERE
The following two tabs change content below.
KidsAndMoneyToday
Tracy Foote
Author | Writer | Entrepreneur | Internet Marketer "I'm enthusiastic about helping people in business and finance — so they can have money available for college, retirement, and travel expenses."
Latest posts by KidsAndMoneyToday (see all)