Fresh Store Builder Review
|
Amazon e-Commerce Affiliate Software
Build a Custom Niche Website
Fresh Store Builder (FSB) is an e-commerce software that allows you to create a website to sell products from Amazon.com. We use FSB on several websites.
The software functions similar to WordPress and there is a supplemental WordPress plugin available for purchase.
Jump to WordPress Plugin
Jump to Installation
Jump to Store Setup
Fresh Store Builder Amazon Software
Quick Facts: Fresh Store Builder includes: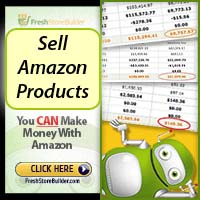 Unlimited Stores under one license
Instant Download
Mastermind Forum
Pro Training Course
Unlimited Support
Video Tutorials
30 Day Guarantee
100% Secure Payments
11 Reasons to Use Fresh Store Builder
Thinks we love about Fresh Store Builder
Quick Set up
Display: Nice clean display of products. Seriously, everything is lined up nicely from listing products in a row, to descriptions, to shopping buttons. Makes a very nice, smooth, user and visitor experience.
Stand Alone: Does not rely on any other software. Runs outside of WordPress so there is no impact on your WordPress site, no stress on the WP database or WP page load time.
Buy Now or Add to Cart: Choose either setting or use a mixture of both
Bundle Option: Create product listings and then group them together as a bundle to boost your associate earnings
Super URL Option: Those enrolled in the Fulfilled by Amazon (FBA) program can create direct "Buy Now" links to their products on Amazon using what's known as a Super URL. (Super URLs include keywords and other data for Amazon.)
Other Vendors: Create custom URLs to create "Buy Now" links to other products on the Web, outside of Amazon.com. You might use  this feature to link to products on Commission Junction, Share-a-Sale, Click-Bank, etc.
Unique Search Results: Search box feature that pulls products from Amazon into the search results if a user looks for something you have not yet listed.
Spin Options: Comes with a feature to spin text (which means creating a sentence with alternative words) to assist you in ranking higher and avoiding duplicate content penalties by Google.
Seasonal Offers: Use the Hide or Disable features for products, sideboxes, and widgets to promote seasonal items.
Reviews: Customers can write product reviews which adds more unique content to your website
Autoposting: Two options:

Add Product ASINs: Enter a bulk of ASINs which fall into a Queue to be slowly added to your website
Autopopulate Products: Choose products by Browse node or Search Term to be added to your shop

Community help: TWO community forums to ask questions, search for past discussions, and browse user's sites for ideas to improve your own income. This is actually more important than one initially thinks. It's very nice to run a search for your problem or ask fellow users, than to wait 24 hours for a submitted tech ticket.
Booster Plugin: Optional affordable booster plugin for those who wish to integrate products with WordPress posts and pages.
Cons – What's not to Like?
Things you might want to know or think about:
Amazon only for Add to Cart: The store is only for Amazon products, so if you have your own products, you will need to look into how to list them on Amazon for sale through Amazon seller programs, such as Fullfilled by Amazon (FBA), or use the Buy Now button option with a Custom URL.
Limited Web Design Options: Unless you know coding, your store will have a similar layout to all other FSB stores because there are only so many "templates" to choose from. Also, WordPress users should understand that while you can use the CSS settings to modify the color and layout of your Fresh Store, you most likely will not be able to match it exactly to a WordPress theme.

But Fresh Store Builder – Click Here
Fresh Store Booster Plugin for WordPress
You cannot purchase this WordPress Plugin as a stand alone software. You must purchase FSB for the plugin to function. The plugin allows you to show your FSB store categories, products and shopping cart contents inside WordPress by using Widgets or embedding into Posts and Pages. This is perfect for integrating a smooth transition from WordPress to your FSB software.
Features include:
Completely automatic updating and Intelligent cache for fast loading
Easy Theme Customizer
Widgets:

Store Categories
Best Selling Products Widget
Special Offer Products Widget
Customer Basket Widget

Product Embedding: add products to your pages and posts
(12) Included Skins
Design matched with all FSB WP Themes
Compatible with all WP Themes

Step by Step Installation Checklist
So you bought the software, now what? At Kids and Money Today, we are known for our quick checklists. Here's how to install Fresh Store Builder:
Create a Database
Create a user ID with a Password for your Database
Go to the File Manager on your Domain and locate where you wish to host your store (either the root domain, a sub folder, or subdomain)
Upload the Zip file (provided in your purchase)
Extract the contents of the Zip file
Delete the old Zip file
In a new browser window, load a URL to complete the installation of your store

If your store is in your Domain directory, load yourdomain.com/install
If your store is in a subfolder (for example a folder named "store"), you can load: yourdomain.com/store/ (without the word install)

Follow the prompts to set up your store (store name, Amazon keys, load products, etc.)
How to Set Up Your Store
Great – You installed the software. Now what?
Quick Start: Follow the quick start steps that are found in your Dashboard under Get Started > Store Health (but wait to go live)
Custom CSS: Choose your CSS settings to style your website colors, buttons, and exit pop-up. Begin at Template > Template Options > CSS Options and then if you need more and have coding knowledge, you can go to Tools > Change Parameters > Custom CSS
Navigation: Set your top and bottom navigation links at Template > Template Options.
Sidebar: At Content > Add Sidebox, you can choose some sideboxes to add such as Search, Shopping cart, custom HTML, etc. Also under Content are options to re-arrange your sidebar boxes.
Widgets: Visit Content > Add Widget to add widgets of BestSellers, Random Products, Sliders, Special Offers, or custom HTML. Note: To edit a custom HTML widget, you go to Template >Template Options and the widgets are toward the middle of the item list.
Social Links: Add links to your social networks: Template > Template Options > Template Options … scroll toward the bottom for Facebook, Twitter, Pinterest, YouTube, and Google Plus options.
Add Categories: At Categories > Add Categories, add two categories. (Unless you are 100% sure of your plan for your store, wait to add more. Each category creates a URL that will be found by Google, and you want to avoid deleting these since that would create a "Page not Found" error in search engines. If you don't have a plan, it is best to create only 2 categories, so you can change your mind once you see the full store layout.)
Decide on Tag Use: Go to Tools > Change Parameters > Product Tags and choose your Tag settings. You can choose how many tags to set for each product imported, turn the import feature off to add your own tags, etc.
Decide on Add to Cart Options: You can use only Add to Cart, only Buy Now, or a mixture of both buttons. To show only Buy Now buttons, look in two locations. Go to Tools > Change Parameters > Cart & Checkout will let you hide Add to Cart button on all product pages.  In the same location, but under  Products, you'll find the option to turn on the display for a direct link to Amazon on the Product page.
Add Products: Add some products under Products > Add by ASIN, Search, or use Browse Nodes. Preferably add under ten items to start. (Again, this is so you can see how things work and make a plan or make adjustments without deleting products.)
SEO your Categories and Products: Go back to your Product and Category section of the dashboard and choose View All Products and View All Categories, respectively. For each category and product, click Edit and create unique text descriptions. Check the SEO & Meta to be sure it is acceptable to you. For example, you might shorten the URL, remove words people don't search for, or replace that URL with keywords of your ow.
Go Live: Under Get Started > Store Health you can make your store live.
Test Run: Open another browser where you are not logged in and click around your store. Click all the way through a product until you arrive at Amazon. Make adjustments if needed.
Promote: Begin normal Internet Marketing steps such as scheduling products etc. For the best social media scheduler see our post here.
Frequently Asked Questions
How do I login to my store? It depends on where you installed your store. It will be either: mystore.com/freshadmin or mydomain.com/store/freshadmin
How do I login to my FSB account? Visit: https://myaccount.freshstorebuilder.com/login
Where do I get help?
What was the purchase link? Buy FSB Here
Some Extra Fresh Store Builder Tips
Help: Look in three places – the Facebook Group, The guides when you login to your account (not store), and the forum
Orphan Products – just aren't in a category yet, edit and place in one
Hide – Products that are hidden give a 404 error if it receives any visit. Keep them in your store if you don't want the system to add them in again when you use autoposting. Keep in mind, there is no way to retrieve a product once it's hidden.
Delete – deleted the product, might get added again
Disable – not sure what this does, located under "All Products"
Queue – This term is used in two ways. Under Parameters, you have a Product Queue where you can set the number of products to add each time the Queue runs. This is used for populating or autoposting products. The second type of Queue is used to edit a group of items and referred to as a Queue Run (Product Edit Queue > Queue Run). It allows you to place items in a "group" or queue and make edits to each one. This is really helpful if you think of outsourcing a task or if you are working on mass edits across your sites as it will keep track of your last item edited so you don't have to do it all in one sitting.
SEO – best practices, keep a good ratio of unique content vs FSB products. Also, add some CSS and unique content – anything to make it look less like a template so Google doesn't think you store is just like all the rest!
Analytics – Check out Clicky if you find Google Analytics too confusing
The following two tabs change content below.
KidsAndMoneyToday
Tracy Foote
Author | Writer | Entrepreneur | Internet Marketer "I'm enthusiastic about helping people in business and finance — so they can have money available for college, retirement, and travel."
Latest posts by KidsAndMoneyToday (see all)