Single Upload Software to Amazon – Zazzle – Etsy – CafePress – Red Bubble
|
Single Upload Integration SoftwareSingle Upload Multi-POD Platform – Your Design Uploaded Once
The Single Upload Multi-POD platform launched on May 15, 2018. The first of it's kind software to allow designers and photographers and other artists to upload their artwork file 1 time and send it to multiple platforms across the Internet. I was an "Early Beta" tester. The program is currently in BETA.
**THE PROGRAM IS OPEN to NEW USERS**
For those who already know what this is:
I've not posted the pricing here because it's going up in about a week. To see the current special pricing, you'll have to register an account and then, you'll see the "choose your plan" welcome page. Click Here to Do This Now (Affiliate link)
This post was last updated on June 2, 2019.
Single Upload Design Collections to POD Platforms
Single Upload (SU) launched as an IndieGoGo Campaign. (Affiliate links are included on this page.) Single Upload is owned by Matt Edmonds, who ran an exclusive platform called Rapid Creator. The Rapid Creator software only interfaced with Amazon.com and in a sense, wais the "baby" for the new, grown up – the advanced SingleUploader program aimed at linking to Amazon MF listings, Merch by Amazon, Etsy, CafePress, Zazzle, and more.
Click Here to Join
(Affiliate link)
Bulk Upload – SingleUpload Features
It's all about saving time. One upload to all platforms. Reach more customers – more exposure – more sales. A win-win for all involved.
The initial integration platforms are:
Etsy
Redbubble
Spreadshirt
Cafepress

– under revision due to new API coding

Amazon Seller Central (Gold Plan or higher)
Merch by Amazon via TeeLance *Note: You can also just do Tee Lance by itself. It has it's own unique features.
Zazzle
Which level of Single Upload platform offer is best?
When in doubt, choose to go with the yearly plan which offers a discount and you can learn and increase plans as your business grows. (Learn the system and decide to upgrade later.)
If you can afford it, and you have the vision to work this full time to upload tons of designs, choose Gold for Life. I've always been a fan of LIFETIME deals. Anytime you can get away from a reoccurring monthly fee for a tool that you know you will use forever – DO IT!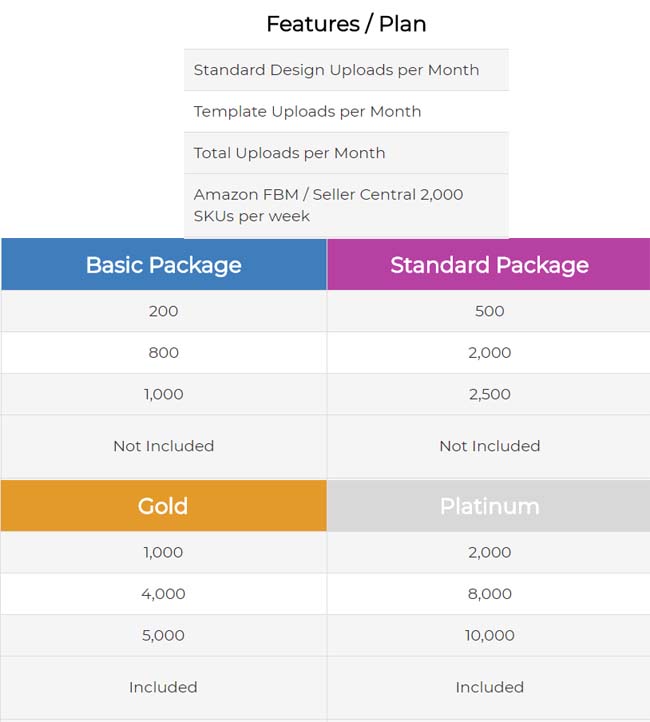 ***PRICING IS NOT LISTED IN THIS POST BECAUSE IT IS GOING UP SOON***
I will add regular pricing after the EARLY BIRD BETA pricing has ended.
Register for an Account to see Pricing (Affiliate link)
Single Upload Staff Review
I used the Rapid Creator program (the prior interface) for about a year before it expanded into the multi-pod Single Upload (SU). There were some bugs and bumps in the road. It's always difficult coding an integration with other platforms, and especially with Amazon — who likes to change things up every minute. The support team always stayed motivated and responded to concerns. I hung in there and had a successful Q4 for 2017. I expect Q4 2018 to have even better results.
SU is continually working on adding more platforms to the list of Print on Demand sites that the Single Uploader can integrate with. The company motto is "ADD VALUE" and this goes for the PODs they connect to as well as their designers. When you're in… and something new comes out… they make every effort to give you added value. They try to include something with your past purchase (ie: you get something for free) and who doesn't love that?
QUESTIONS on Single Upload?
Don't worry. A Closed Facebook Group is included for all users. You can post your questions daily and get some hands-on help.
FULL DISCLOSURE
This software is continually under development. The developers are adding coding to grow and include more Print on Demand (POD) platforms. You should expect some bugs and bumps in the road as more companies and features are added. Your purchase locks you in to receive all future additions. *Your agreement is between you and Single Upload – but this blog will continue to share ideas, tips, and strategies to help grow your passive income business.*
Beta Tester SingleUpload User
I was an EARLY Beta Tester for the SU software. Connect with me by signing up for my newsletter of valuable ecommerce online selling tips, with a heavy focus on Amazon and Zazzle.
The Single Upload Program is currently OPEN to new users.
Click Here to Join (Affiliate link)
After you join, sign up for our newsletter of ecommerce tips for both Amazon and POD selling: