No Free Fish Here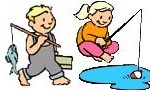 At Kids and Money Today we specialize in entrepreneurial education from child through adults and also — offer tools that help YOU help YOURSELF.
As a parent, I believe in providing the fishing pole. There's no free fish at my house.
I will teach you what you can do with your fishing pole…but you need to pick it up.
You need to make the choice to take the action that will result in change.
Learn to Own the Pond
The saying goes Teach a man to fish and he will never go hungry…
But this is just the first step in the right direction.
By taking action on the tips and techniques in my books and on this website, I want you to learn more than how to use the fishing pole. I want you to own the pond.
This site is not about free handouts. Instead, we provide educated information helping parents and children to further their education and financial stability.
One way to do this is to begin employment at a young age and take advantage of current laws to help further education.
(see the video below)
Watch on YouTube
or
Subscribe to us on YouTube