Datahawk Analytics for Amazon Sellers
|
Datahawk is an Amazon Analysis software that gives you insights to your own and competitor listings. The have a FREE starter plan which is a great way to begin using and learning the software. Those who wish to go straight to the site, read their description, please click thru my affiliate link: Datahawk Free Sign Up.
Everyone else, here's a short description of some things it can do for you (and the main way that I am using it).
– I'm going straight to a tutorial type post of actions to take. (If I have time, I will update this later.)
Datahawk Amazon Software for Seller Central Sellers
Datahawk Beginner Set Up
Sign Up: for your free plan using the link above.
Decide on Your Number of Projects: Projects are like folders of similar themes ASINs. They could be by category (like clothing) or theme (like Unicorn items) or any other grouping you come up with. On the FREE plan, you can have 5 ASINs, so if they are similar, put them in 1 project, but if they are uniquely different, put each in their own Project.
Add ASINs: Add your 5 ASINs into either the same Project, or each in their own project.
Add Keywords (KW): On the Free plan, you get 5 KWs, so choose 5 to track and enter them on the products they apply to.
TIP: A KW can apply to more than 1 ASIN, so if you chose 5 ASINs that use the same 5 KWs, then you can put 5 on each ASIN. If your ASINs are all uniquely different, then you might have only 1 KW per ASIN when you are using the Free plan
OPTION TWO: Instead, repeat the above instructions but use 5 competitor ASINs. (You can of course mix and match. You might do 1 ASIN of yours and 4 competitors, and so on.)
SAMPLE DATA SCREENSHOT:

Don't get overwhelmed by all the data. Begin with baby steps.
Datahawk Beginner Tutorial on Actions to Take
Here are some ideas of tabs to click and data to observe and take action on.
Projects > Project Lists > Click to open one of your Projects > Click an ASIN you loaded in the project
Sales Rank Tab: Tells you a HISTORY of the BSR for this ASIN for the past 30 days
Buy Box Tab: Tells you what Brand had the Buy Box each day, and the price of the item on that day
Listing Tab: Gives you 2 sub-tabs of State and Listing Quality. The first shows the frequency of KWs used on the listing and the metadata (bullets etc.). It will also show changes made to the metadata such as a new sentence added or removed. The second, shows your quality as per Amazon rules (such as did you use a number as a number or spell it out?)
Keyword Ranks Tab: This tab shows you where the product was ranked for a given KW on each day, and a Yellow Star means the product also showed as a Sponsored Ad on that day. So for example, in the image below, we can see this ASIN was on Page 1 in Position 19 for the KW being tracked. (The KW is not in the image)

Keywords Look Up: Shows KW you track in green, and KW you rank for but do not track are in white with the ranking position you are in. (So you get some data for KWs that you are not tracking, and you may wish to begin tracking these.) You can also see how the ASIN ranks in the categories it's in. (The BSR)
Keywords Generator Tab: Gives you a list of suggested KWs and a word cloud of top related KWs and items.
Datahawk Amazon Analysis to Spy On or Research Competition
So imagine you can use this for your items, but also, you can use this for competitor items and get a feel for how your item compares to theirs, track your position daily and see if your changes are moving your up in the Search Results Page.
Datahawk FREE Starter Plan: Free for life. The starter plan is free, so it's a no-brainer to at least begin tracking 5 ASINs today. Let Datahawk begin tracking and doing some research work for you. Click the affiliate link CLICK HERE to sign up and give it a try.
Datahawk Amazon Seller Software Pricing
NOTE: When you're ready to upgrade, check out the CUSTOM PLAN PRICING, that is a PAY-AS-YOU-GO plan where you can add KW for only .50/mo (image screenshot on 6/24/2021 for pricing)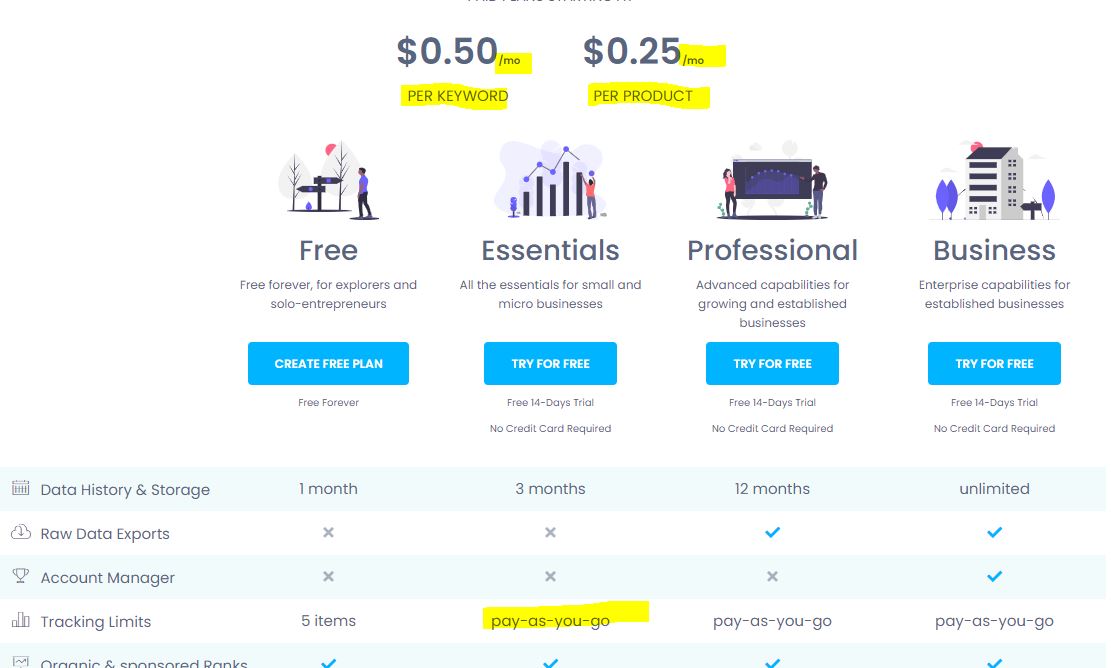 ////////// Edit to add ////
Below are some notes I took in a webinar by Prateek Haralaka, from Datahawk. I will eventually work them in above, to be nice readable text. But you can see if they might help you now (after you sign up).
Beginner DH Steps
Create a Project – ASINs grouped by KW families
Get KWs – from Listing Analysis tab and KW Lookup Tab (or your own sources) and add to Project
Get Target ASINs – from Share Voice and Category BSR Reports (or your own sources) and add to Project. (Share of Voice = products that show for a KW, and position for any ASINs you entered.)
Add Tags to ASINs – so you can tell your ASIN from competitor ASIN or use tags for grouping, etc.
Take note of your current position: Project > Project Lists > choose your ASIN > KW Ranks Tab
7 days after Campaigns started – create new Share Voice Report (for NEW time frame) or repeat #5 above to view inside Datahawk software – and see if your organic rank changed as a result of your PPC or optimization actions.
Do the same with Category Best Seller Report.
Check metrics: ACOS, TACOS, ROAS, Sales Net of Ad Spend, etc.
Optimization
Check you're not running out of Budget – check budget is high enough
Check you have enough impressions – check bids are high enough
Check you get clicks – maybe you chose wrong KW and products
Check you get conversions – maybe your product was not ready (listing not optimized for the audience)
///////////// END NOTES
*Also stay connected with my post updates – sign up below 🙂
*To reach me directly, join my Facebook Group – Click Here