Create A Dot-to-Dots Picture Puzzle
|
Make Your Own Connect the Dots Software – Easy
Try this 2020 Dot-to-Dot Creation software to make printables, worksheets, or self-published books. Use however you see fit.
Commercial use is permitted.
Print worksheets for school teaching is permitted.
Export directly into Powepoint for PDF production, or
Create your own puzzle books.
*You name it, you can do almost anything with it.
To go straight to the source thru my affiliate link: Click Here. Otherwise, learn more below.
How to Make Dot-to-Dots Puzzles Fast
When you're searching online for how to create a dot-to-dot puzzle, and you don't want to worry about a digital license use, or worry about permissions and usage limits on number of outputs or items sold, – try this Dot-to-Dot Generator software by Book Publisher Tools.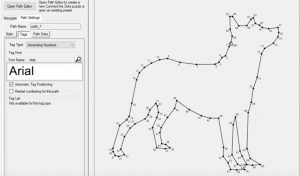 The puzzlemaker algorithm code was created by Hans Miedema, to create a super fast export to assist authors, teachers or just puzzle fans. Creators of Low Content Books (LCB) who design things like journals, brain stimulation books and diaries, can use this software to supplement their crosswords, word search, cryptogram and Sudoku puzzles. It works perfect for those looking to make money online using Amazon's KDP (Kindle Direct Publishing) platform for paperback books.
When comparing softwares, one of the biggest PROs of this software is the ability to move dots and create proper curves and shapes. In addition, if you have any issues the developer is available in the Facebook group with fast support responses.
Here's a clipped video to give you a feel for what it can do and how quickly you can create a drawing puzzle from an image shape:

NOTE: I clip the videos, to quickly show you features. You will have access to the full tutorials and customer support inside the community Facebook group.
Click Here to Purchase through my affiliate link.
Complex Connect the Dots Maker – Using SVG Files
When looking to add creativity to multiple puzzles, try the PRO-Version. This module allows you to use SVG images and techniques to create exciting shapes.
Take a look at this advanced video sample tutorial. If you use Adobe Illustrator or work with other SVG graphics programs, you will see how easy it will be to create unique, QUALITY images. One of the most difficult things that softwares have issues with is handling complex shapes, but with this software you can manually control those hard-to-get places. Your customers and/or student will love the results!

Click Here to Purchase through my affiliate link.
Puzzle paths can be as simple or complex as you like. Solutions are provided.
Export Your Puzzles to PowerPoint for PDF
Puzzles can be exported as simple paper sheets to use in a teacher's class, special needs students, fun games for your family, senior living adults who need or love mental challenges, or for printables to sell on marketplaces like Etsy.
You can also export directly into PowerPoint software to easily create a full puzzle book. From inside Powerpoint, you can further export via a PDF to bring inside (import into) Adobe InDesign software, if you are more familiar with that design platform.
More Puzzle Options
Check out my other puzzle article to discover related tools:
---
Stay in touch with me for the latest tips and honest reviews – Sign up for the newsletter:


.