Teen Job for Cross Country or Track Runners
|
Easy teen job idea for track or cross-country runners
Here's a great idea for a busy teen or college student who likes to run and claims, "I don't have time for a job."
Hand out a flyer in your neighborhood advertising that you will take their dog for a one to three-mile run on a Saturday or Sunday. Include some benefits on your flyer. Tell how exercise is healthy for their dog and how running will expel extra energy making a peaceful home environment.
Add a great call to action like, "Limited slots so call now to reserve your spot!"
Your target customer is any dog owner with a busy schedule who has little time to exercise their dog.
Suggested price: $10-20 per run.
This can lead to other jobs too. The owners might call for dog sitting when their next vacation rolls around or if they have a business trip.
10 Safety Tips for Dog Running
Don't forget about safety.
Spend some time with the dog before handling it alone.
Start with very small dogs before handling larger ones.
Don't accept a job with a dog that weighs more than you do
Don't accept a job to work with a dog that does not obey the commands of "Sit, Stay, and Heel"
Do a test run so you know how the dog behaves near cars, people, children, and other animals
Make sure the dog has a collar and contact tag
Carry the contact phone number of the owner on all runs
Wear extra reflective clothing; consider reflective collar for the dog
Take 5 minutes to try to get the dog to "go" before you begin running so you are not pulled to a stop
Remember when "working" the priority is the dog and not the distance you are running. Stop if the dog looks winded.
[svpVideo v=1]
Get Started with Your Dog Walking Business
Get paid to run! Start today with these business start-up items:
If you found this useful, follow our Jobs for Students Board on Pinterest
.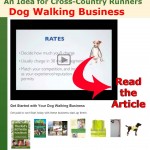 Pin This Post