Airtable Spreadsheet for Zazzle Income
|
Airtable is a cloud based database spreadsheet that can help you analyze your Zazzle income. In this tutorial, I take you through the basic setup where you will import data while learning how to use Airtable.
Note: Links to Airtable in this post are affiliate links, where I earn a credit toward my own Airtable plan.
The lowest plan is FREE and you can sign up thru my affiliate link Click Here
You will need Airtable to proceed with the rest of this article.
NOTE: After you sign up, the first thing you should do is take note of your own affiliate link and begin sharing that. For every sign-up, you will receive an account credit, and when this builds, you can use it to upgrade to a higher plan with more features.
Airtable Tutorial for Zazzle Designers
Import Zazzle Earnings CSV Spreadsheet
*If you don't have a free Airtable account, Click Here*
Step 1: Open Airtable and create a new Base.
– It will most likely be inside your MainWorkSpace.

Step 2: Open Zazzle and download your Earnings History, Royalty History, and Referral History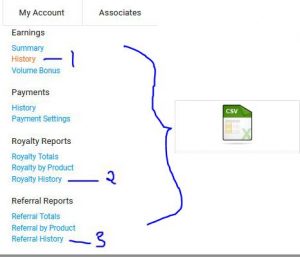 Step 3: Import the first csv "Earnings" file into your base
Click the plus sign to add a new base and choose "Import Data"

On the pop-up, choose "CSV", Choose CSV again on the next pop-up and proceed thru the prompts to choose your EarningsHistory csv file that you downloaded. (We will add the other two shortly)

next pop-up:

Name your base: Zazzle Income (or another name you like) by typing into the base title box and hit Enter.

Open the Base – by clicking on it. Click inside the Table (tab) Title and change the name to "Earnings."

Click the 3 dots next to Grid View, to open a drop-down menu, and click Duplicate View.

Repeat this dropdown menu, choose Rename and type to rename this View — call it: "Copy in Earnings."

Repeat these steps again, copying a View and rename it to "Working View." When finished, if you place your cursor over the words "Working View" a menu pops out from the left that shows all your Views.

At this point, you have 1 Base (a file) with 1 Table (a sheet) that has 3 Views. Columns in the Table, such as the first column labeled "Date" are called Fields.

Grid View – is your core View that will be used to show all Fields, assuming none are hidden
Copy in Earnings – is where you will add your new earnings each day, week, month, quarterly, etc. depending on how often you update. (Note that you will be able to just copy the rows from an open excel file and paste directly into this table. No more importing into this Earnings table. More on this later.)
Working View – is where you might add more Fields (columns) as you begin to customize and evaluate data. But the Base should already be useful to just have everything in one place, even if you don't do any customizing ever.
Have you been reading and didn't actually get your own Airtable account yet?
The lowest plan is FREE and you can sign up thru my affiliate link Click Here
Import Zazzle Royalty CSV Spreadsheet
Next, import your Royalty CSV that you downloaded from Zazzle.
This will be in a NEW Table (a new sheet) and is very similar to the prior steps.
Click the Plus Sign + Add or Import to add a new Table.



Steps – Repeat the prompts and steps as you did above:
Import Royalty CSV
Rename Your Table to Royalty
Add 2 Views – Copy in Royalty and Working
Now your Base should look like this: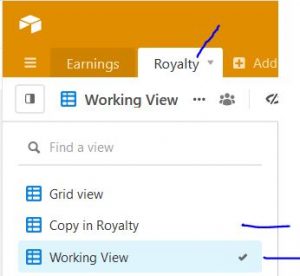 Import Zazzle Referral CSV Spreadsheet
Please do this step, even if you are not currently promoting your items as an Zazzle Associate. It will be easier now, while everything is fresh in your mind.
Import your Referral CSV file, following the steps we just did for adding your Royalty file.
Click: Add or Import
Steps – Repeat the prompts and steps as you did above:
Import Referral CSV
Rename Your Table to Referrals
Add 2 Views – Copy in Referrals and Working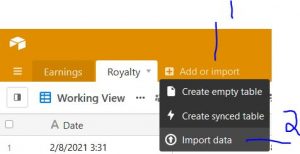 Now your Base should look like this: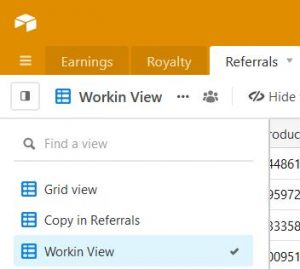 ***BE SURE TO DO THE NEXT STEP***
---
BACK-UP Your Zazzle Earnings Base
Before you begin browsing around, backup your Base.
Click the Base Title, and choose "Duplicate Base".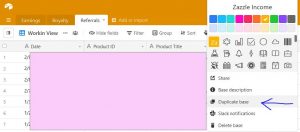 Next screen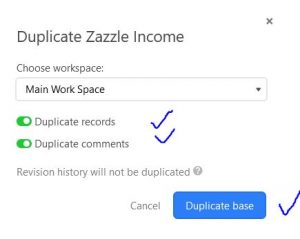 Follow the prompts and at the end, you will see your duplicate Base with the word "copy" next to it.
Click in the Title and change the word "copy" to a date, like "14Feb21" so you have a record of the date you backed this version up. Maybe change the Base color also to gray, to be sure you never work in a backup copy.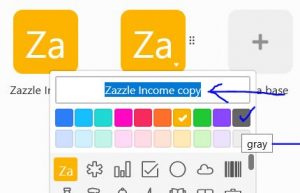 ---
Analyzing Zazzle Income
More coming soon….
Images bellow show a glimpse of what you might do with Airtable.
Note: I have filters in place and customization added for privacy.
Zazzle Earnings Sample– sort by month or year.
The image below is a filtered "Year" screenshot with some CUSTOM Fields (columns). It lets me compare how some data (a store, niche etc.) is doing over several years. (This particular "thing" dropped its earnings during COVID.)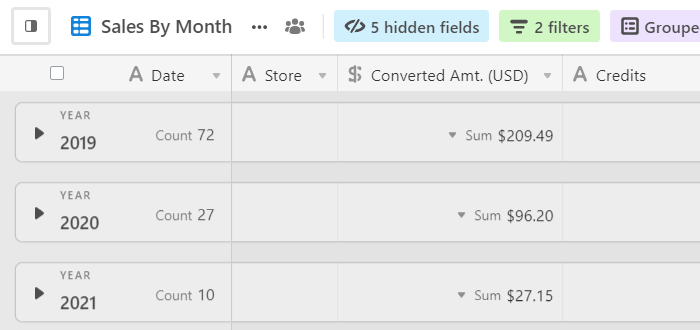 Zazzle Royalty Sample– grouped by Product.
This is a filtered view screenshot with CUSTOM Fields (columns) lets me learn what products are doing well (based on my filters for a store, niche, etc.)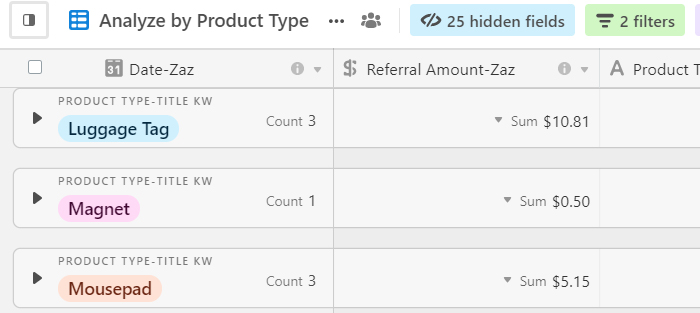 Zazzle Associate Referral Sample– sort by SOURCE
This is a Source filtered screenshot with some CUSTOM Fields (columns). It lets me learn what sources (blog, Facebook, Pinterest, emails, etc.) are doing well.


(If you still need to sign up for your FREE Airtable account, here's my affiliate link again: Click Here)
*To reach me directly, join my Facebook Group – Click Here
*Also stay connected with my post updates – sign up below 🙂