Glorify App 2.0 – Graphic Design Creator
|
Glorify App 2.0 – Easy Product Image Creator
(Review Last updated: Nov 3, 2020)
Glorify App 2.0 Lifetime Deal
I've just added some affiliate LIFETIME DEAL links, so look for those in the post to get the BEST DEAL.
– It's not going to last forever, so I also left my regular signup links in place.
---
The impressive cloud-based Glorify App offers quick product image templates with many psychological image funnel design sets to increase your conversions.
What makes Glorify Software Different?
The unique selling point of the Glorify APP is its heavy focus on eCommerce sellers and PRODUCT images. You'll find a huge selection of template ideas to choose from. When I open competitor products, the user interface is a bit overwhelming because because they try to have options for ALL AUDIENCES.

To go straight to the FREE TRIAL page, use my affiliate link: FREE TRIAL – Click Here
But at the moment, the LIFETIME DEAL is better:
LIFETIME DEAL – Click Here
Glorify was designed by Omar Farook who has a both photography and Amazon selling background, and this is reflected in the options and simplicity offered in the software. He gets it. He knows we want high quality marketing images, and we want them fast.
Here is a super fast video showing the creation of a fashion product image.
– Note how they use the background remover to isolate the handbag.
No credit card is asked for when you sign up if you do the free trial. But right now, there is a special Lifetime Deal
There are endless ways to use this tool.
Favorite Glorify App Features
Background Remover – Fast and easy.
Product Category and Niche Templates: Quickly find a layout that works for you
Shadows & Reflections: So easy to add a shadow or reflection on your product image
Callout Templates: Highlight product features with "Zoom" and text annotations
Model Images: No need to get your own model releases
Effects: Add smoke, adjust contrast, toning and more
Product Bundle Templates: Sequenced sets of images that work well for your Amazon listing, funnel landing page, or a PDF brochure.
Branding Colors: Cycle your brand colors through different locations on your template
Smart Resize: One click shifts elements to fit social media sizes like Facebook, Instagram
Social Media Share: Share directly from the app to social websites or your WordPress blogs
Icon8 Subscription: Access to thousands of icons at no additional charge
Tutorials: Beginner playlist and more advanced tutorials for images or logos.
– For more info on why I love this tool and helpful tips to get started, keep reading my full review.
The software is ideal for both beginners and advanced designers.
BEGINNERS: Those new to graphic design can just use templates and swap out the current product for one of your own. This is a super fast (and my recommended way) to get started. Simply use Glorify to upgrade your current images, then come back to play with the software, fine tune to use your brand colors and then replace your images again.
EXPERIENCED: Intermediate to advanced designers can import their own elements and easily modify and export designs much faster than inside Photoshop or Adobe Illustrator.
There is a FREE trial period and I had a conversion with a new Glorify improved image before my trial was even over. I'm thrilled with this product and hope you check it out.
Which eCommerce Business Is Using Glorify Software?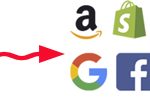 Lifetime Deal
Who are the eCommerce sellers who can use Glorify to create beautiful images?
Amazon Sellers – FBA, Merch by Amazon, KDP Authors
eBay Sellers
Etsy Sellers
Shopify Sellers
WooCommerce users
ClickFunnels users
POD Sellers – Think of Print-on-Demand sites like Zazzle, RedBubble, etc.
Template Sellers – people who create Pinterest templates to sell on places like Etsy.
Social Media Marketing or Advertising Managers
Virtual Assistants – there is a higher level plan to allow your VA team access
Glorify allows you to create graphic designs fast with brand consistency and advanced storytelling. Add your own brand color palette and you can cycle the colors thru a template giving you multiple versions of the same image with different color layouts
Amazon Seller Photo Editor
Check out Glorify at my affiliate link:
Glorify App 2.0 LIFETIME DEAL
When you're looking for how to create images for Amazon listings, you want something fast, high quality, and affordable. You can hiring a professional graphic artist, but even those on Fiverr are getting expensive with their add-ons. And what if you participate in Merch-by-Amazon and have tons of t-shirt images? It's a big expense to work with a designer.
Even if you ARE a designer skilled in Adobe Illustrator or Photoshop and know how to run Macros and Actions, designing still takes time. With the Glorify App, advertising images can be created super fast which allows you time to focus on NEW products.
One reason the Glorify App is currently the best online photo editor tool is because it was designed by a successful Amazon seller. When you have an experienced person who understand Amazon running the show, the outcome is almost guaranteed to fill your large or small business needs.
Your Amazon images act as a funnel right on your listing page. Every product on Amazon takes the customer from image 1 to 7 in a systematic funnel-like fashion. You can use Glorify to visually communicate to the customer, especially using the pre-made sets. Then, you can still do minor editing if desired.
The psychological image flow is all done for you! Each of your images can transition in a smooth way to take your customer from product information to the unconscious lifestyle image that triggers a feeling of, "I want this."
(*Someone could even use this software to start their own Amazon Photo Editor Job and list their services on Fiverr. Yes, next time you hire-out, consider that someone could be using Glorify to edit and create your Amazon product images. Crazy right?)
Glorify App for Pinterest Pins
Pinterest is an awesome platform for use of the software.
(Of course it works for other social media as I mentioned – where with the click of a button, your project will resize.)
A simple re-edit of your images can impact your social media conversions.
Glorify can help any eCom-entrepreneur improve their Pinterest Pins. With a few clicks, you'll have professionally designed images to transform your click-through rate and increase your chances to make money online.
Here's my link again so you don't have to scroll back up: Click Here
Glorify App – Upcoming Features
The Glorify app actually learns from your interaction. It's machine learning. You will find it suggests templates for you, so you can easily have ideas to switch and change up your images for fresh content. This is really nice for things like Pinterest which doesn't want us posting the same image again and again.
The community has a page where users can add suggested features to their Road Map. You can easily see what is coming, vote, and add your own ideas.
Glorify App Quick-Start Checklist
If you've read this far, now we're getting into the nitty gritty – notes that I took when I first started and recommendations for you to have the BEST, SMOOTH experience when starting.
PRODUCT IMAGES GOAL:
Know your goal. Aim for a "Story Driven Image Sequence" where the customer is emotionally connected to buy when viewing the final funnel image.
PS> Did you sign up yet? haha – don't miss out, seriously, this is sooo awesome! 🙂
Get Started – CLICK HERE
10 Best Practice Tips for using the Glorify App:
Tutorials: Watch the entire YouTube video playlist for Beginners. There are about 17 of them, mostly short videos. You can play it on double speed at first. Just get a feel for the potential of the tool. Later, come back to re-watch the specific episodes that you need.
Optimize: View 2-6 URLs of your competitors and take note of their images, keywords and tags to see what is generating ranking
Benefits: Note your products key Features and write down the BENEFIT of each feature. A good test is ask, "Why do I care it has _____?" This usually gives you the benefit vs the feature. It also helps with emotional connection.
Funnel Path: Here's one order to try for your Image Flow Funnel:

Product Hero
Call out Images
Comparison Images or Image highlighting how you are different
Lifestyle Image
Maybe an end summary image

Simplicity: Don't stuff all features into 1 image and always display your product BENEFITS.
Design: Keep it easy on the eye, but eye-catching.
Action: Tell users what to do (Buy now)
Incentive: Maybe have some kind of incentive (20% OFF) – depends where your image will go
Test, test, test: Don't assume anything.
Community: Participate and review the FB group for tips
BEST WORK FLOW – TIME MANAGEMENT
Rule #1 is to set a timer for each section of a task. This ensures that you don't go down a rabbit hole and suddenly, 8 hours are gone and all you've done is look at cool product designs.
If you're an artist, you may feel a desire to keep looking for more layout options. It's a little bit of FOMO (Fear of Missing Out) on a better option for your brand or product. Personally, I wouldn't worry about this too much at the beginning. Getting any Glorify image live is better than having no image or a poor image live. You can always revise later.
Rule #2 for starting fast is to use most templates "as is." Don't explore fancier features. Don't bring in your own supplemental elements and spend time aligning them. There's plenty time to get creative — AFTER you've successfully used existing designs. Try to put your exploration and creativity on hold, or it will slow you down. (Ask me how I know … LOL)
How to Create Ten or more Quality Product Images – In Under 2.5 hrs
Load Your Project Pages: Browse and choose a design template. Keep browsing and choose more templates and add them as additional "new pages" inside your project until all 10 pages are full. (allow up to 1 hour to gather these ideas)
Review your ideas: Drag your best template idea to the top of your project so it's Page One. If it's a "Set" you may wish to delete all your other ideas. If it is not a set, save and order Pages 2-10 for the psychological flow that we're going after. (5 minutes)
Design Page 1: Make adjustments like replace the product, add text, and rearrage until you're happy with your design. (10 min)
Design 9 Additional Pages: Make changes to all your other Project Pages. (allow up to 1 hour)
Export and Post: Export your Project Pages and schedule to post to a social media platform. Note: Glorify has layers, so you can also bring in new products and simply, turn layers on/off to produce variations and create MUCH MORE than 10 exports. (15 minutes)
Why not join with someone obviously already using this?
Final link to sign up: CLICK HERE
*Also stay connected with my post updates – sign up below 🙂
*To reach me directly, join my Facebook Group – Click Here

The following two tabs change content below.
KidsAndMoneyToday
Tracy Foote
Author | Writer | Entrepreneur | Internet Marketer "I'm enthusiastic about helping people in business and finance — so they can have money available for college, retirement, and travel."
Latest posts by KidsAndMoneyToday (see all)