Publisher Rocket 2.0 for KDP Books
|
KDP Rocket Update for 2022
Publisher Rocket 2.0 self publishing software has launched and includes marketing tools to help both PAPERBACK and Kindle ebook self-publishers convert more sales. It is an expansion of the popular, previously named, KDP Rocket Software which has been around for numerous years and has an excellent reputation as an ebook research and marketing tool.
[This post was last updated on 6/2/2022.]
The software consists of FOUR main modules:
Keyword Search
Competition Analyzer
Category Search
AMS Keyword Search
If you're pressed for time and want to skip my summary, feel free to CLICK THIS LINK to go straight to the sales page, get your license key, and begin the excellent training videos. (affiliate link)
Publisher Rocket V2.0 helps you find profitable topics so you know your book will sell, even before you write it. The software works for any type of book: nonfiction, fiction novel writers, ebooks, or Low Content (LC) Publishing such as coloring or school composition notebooks. It is designed to make sure you have a good ROI (Return on Investment).
Let's review each category module.
There are many Keyword and Competitor tools available to Amazon sellers. One benefit of the first two modules is that they focus only on the book publishing niche. If you use other tools, you will have to filter by "book" to pull specific data. That step is eliminated when using Publisher Rocket. Simply put, it's just convenient and very nice to have a software focused solely on Authors.
Keyword Search – Publisher Module #1
The backend of the Kindle Direct Publishing (KDP) platform contains 7 box entries where authors can enter Keywords (KW). These words help your book visibility and can help turn browsers into buyers.
The Keyword Research module of Publisher Rocket will show you:
Buyer Keywords: Search Terms the buyer is typing into Amazon Search box
Level of Competition: Which words or phrases you might easily compete with
Income Generated: The average amount of revenue sales dollars the top titles are earning
Searches Per Month: An estimate of how many people search for this keyword per month
Your back-end keywords and the search terms used by the customer are essential to long term success. They are used to promote and rank well, and thus have impact on how much you earn and what you take home in profit.



QUESTION: Where's this data come from?
A common question when looking at and comparing Keyword Research Tools is where is the data coming from? And Rocket pulls data both from Google and Amazon, and clearly breaks it out for you to know which word came from where. You get the best of both worlds and can use the Google data to think about words not yet entered by an Amazon customer. Maybe expand on these to market to a side, alternative audience.
Along with this data, you can see a Competition Score. This gives you a starting place – a beginning idea of how much competition exists on Amazon. From there you make your own decision as to whether your data and confidence thinks you can compete.
And of course, tutorials are provided telling you exactly how to interpret the data shown.
Competition Analyzer – Publisher Module #2
This Competitor Analysis tutorials will show you how to use the software to determine:
Top Search Results: List book titles that rank on the first page of search results
Performance: Indicate how successful these books are
Competitor Analysis: Give ideas on what might be driving the sales for these top selling books
Here's a fairly short video showing ALL the new features in the 2019 Edition, Version 2.0.
He offers a 30 day risk free trial, so plenty of time to test and see if this is a good fit for you.
CLICK HERE to learn more and buy now.
Category Search – Publisher Module #3
Every module can have a huge impact on your business, but this one in particular caught my eye. There are NOT many tools that provide you with ALL the specific categories that your book could list in. And certainly not affordable ones. This module probably could've been sold as a separate purchase, but as of this writing, we get everything as a 1 package deal. Yay! Yay!
The Category Search module will show you:
Amazon Full Category List: Database of ALL Amazon book categories
Niche Categories and Competition: Find the best, relevant categories for your book and the level of competition
Sales to Rank: How many books you should sell to become #1 in a the category.
Let me explain the Full Category feature a bit further. When you list your book on KDP, you are offered 2 categories, but you can actually list your book in 10 categories. Great news!
To list in 10 categories, you simply email Amazon with an additional 8 or a list of all 10 categories you wish your book to appear in. Great!
… Except, Amazon wants the email in a particular format and this structure is NOT the format you see inside KDP backend. UGH! You have to go look up the format for each book. This is very time consuming for any author working in self-publishing.
Rocket saves you TIME!
Also, when you do it manually, you have no way of knowing if you are checking all 16,000+ categories available to Amazon customers. KDP back-end has (I think) about 8,000 categories.
Rocket DOUBLES your choices!
AND… yep, wait… there's more… When you manually search, you have no way of knowing the ABSR (Amazon Best Seller Rank) of the category and no way to know how many books you would have to sell PER DAY to become the #1 best seller in that category (as shown with the blue arrow in the image below). This all helps get Amazon's Choice – Best Seller badges on your listing.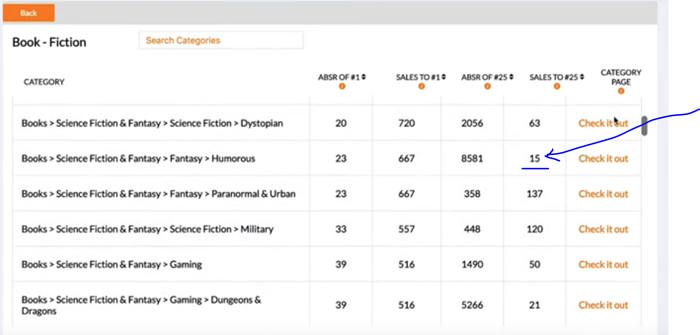 Rocket lets us make EDUCATED decisions! You will most likely have well over 10 categories that your title COULD be in. Now, your biggest challenge should be filtering down to the BEST 10 categories for your title.
CLICK HERE TO PURCHASE AND DOWNLOAD.
AMS Keyword Search – Publisher Module #4
The AMS planning module can help you with:
Amazon Suggested Keywords
Top Book Titles
Author Names
Relevant Books
Books in a Relevant Category
ASINs for ebooks so you can easily place them in your ads for targeting
All of these can be used to increase the potential of your ads to reach customers and improve conversion rates. It's like a little Kindle spy on your computer, helping you learn the market and make smart decisions to rank well. I think he uses the Amazon Advertising API data to filter, analyze and provide results for authors like you and me. The possible alternative types of advertisements authors might run, can me your head spin. The more sales you have, the easier it will be to consistently rank well for competitive keywords.
TIP: Don't run too many at once. It will be too time consuming. You also have to be patient and allow Amazon to do its thing, so get them started and wait. While waiting for data to accumulate, watch AMS tutorials on alternative strategies (learn, learn, learn) and write or create more low content books.
PROS
— um… see above 🙂
At the moment, this (in my opinion of course) is the best search software available for authors for the cost paid. The update should advance any business working in the self publishing industry and open the door to any new writers who wish to forgo the traditional publishing path.
Note: I don't display the price here in case there are any changes. I want to be sure you see the most current pricing, so you know the exact cost.
*But as of this writing, Publisher Rocket is a ONE TIME fee. I really don't like monthly fees, so I appreciate the effort Dave Chesson, founder of Kindlepreneur, has made to make this available for all businesses, start-ups and established authors.
CONS
No User Group: There is no Facebook user group which in today's internet environment is a bit unusual. It seems like all software these days offers a user group for questions and answers. However, support has been super fast for me.
Note: If you want to be in a FB Group to discuss this more: Click Here to join our small KDP Marketing Group
No Paperback ISBN extraction: Since only ISBN 10 numbers work inside Amazon Advertising and the software is not currently coded to pull ISBN 10 vs ISBN 13, at this time, you cannot easily grab paperback, physical book ISBNs, in bulk to add to your Amazon Ads.
If you found this post helpful, please do use our affiliate link to purchase:
CLICK HERE to Start Your Publisher Rocket V2.0 Trial
---
Sign up for our newsletter of ecommerce tips for both Amazon and POD selling: