Information for Owners of YouTube SEO Ranking Checklists
Have you registered as an owner of YouTube SEO Ranking Checklists? Opt-in by completing the form below.
Receive trending news about video marketing and YouTube:

Like what you read?
If so, please enter your name and email below to subscribe to our mailing list: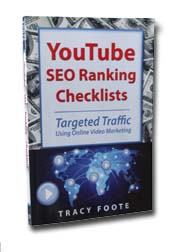 More Video Ideas
New Questions Asked
Why are my YouTube Video annotation links to my website not saving when I have completed all the steps correctly? To save an annotation link, make sure that you are not using a secure URL, ie: use http:// not https://
Tips and Threads for Connecting Google+ to YouTube Pages
YouTube to Google+ Page: Deleted or Close My YouTube Account
Tell me the Latest News
Google Support Links on deleted YouTube channels:
Links to 2014 Forums and Communities for a solution to a closed YouTube channel:
Temporarily Disconnect My Google+ Page from My YouTube Account Channel
More Links
Improve Your YouTube Channel
The following two tabs change content below.
KidsAndMoneyToday
Tracy Foote
Author | Writer | Entrepreneur | Internet Marketer "I'm enthusiastic about helping people in business and finance — so they can have money available for college, retirement, and travel."
Latest posts by KidsAndMoneyToday (see all)