7 Awesome Habits to Teach Kids Early
|
Start Early with The 7 Habits of Happy Kids
As parents, we can start building good habits early by reading the book,The 7 Habits of Happy Kids by Sean Covey, to our children.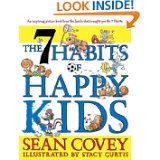 Just like in famous fable tales, our children will learn subtle messages while reading seven unique stories aimed at teaching good habits. Included at the end of each section is guidance on how to open up conversations with your child. This is an interaction book. These discussion tips can be used to solve problems or develop good character traits in your child.
"I'm bored" which translates to, "Mom, entertain me" is one of my favorite issues in this book. Children need to take charge and figure out on their own that they – alone – have the ability to solve the boredom problem. If children realize they can solve the boredom problem on their own, this will be the first step to understanding that they are the key to solving any problem in their life.
There are 6 other issues discussed inside:
Having a plan,
Work comes before play,
Everyone can win,
Listen before speaking,
Together is better, and
Balance is best.
These are easy concepts to demonstrate to your child using examples in your own household. Parents can show children how play dates and activities do not take place without a plan. Show them we need to clean our room (work) before playing, or how much mom, dad, and kids can accomplish when they work as a team. Try team house cleaning or gardening.
Since each story in The 7 Habits of Happy Kids focuses on a separate character trait, parents can choose to repeatedly read a chapter to focus on a behavior they would like to develop or improve.
The key to building good habits is identifying and then practicing them. Convey has a free online games site for young children. Try the "Go Green" or "Lemonade Stand" game. In Lemonade Stand, your child will use a team to build the best stand. Your child assigns tasks to each team member based on their skills. (For example, the member strong in math should do the accounting.) The money game is an excellent lesson in team building.
Parents should seek to create opportunities to implement good habits.
Do you purposely construct opportunities for your child?
How does your child demonstrate his or her good habits?
How to Teach Children Good Money Habits