Amazon Seller Training – Indianapolis
|
FREE Amazon Selling Indianapolis Coaching Workshops
Learn to Make Money – Sell Online using Amazon
We're a group of advanced Amazon sellers providing free training to the local community, sharing our knowledge of how to source, launch, and dominate the Amazon selling platform. It's FREE to join: Click Here
We offer support for all aspects of Amazon Selling:
Retail Arbitrage (RA) / Online Arbitrage (OA)
Private Label (PL) / White Label (WL)
Merchant Fulfilled Orders (MF)
Fulfillment by Amazon (FBA)
Merch by Amazon
Amazon Custom
Amazon Handmade
Amazon Associate Program
Live FBA Amazon Seller Training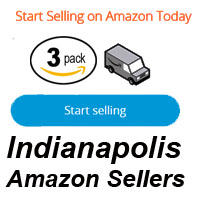 We offer FREE, hands-on training. Everything is live support! While we will share ideas for video links, podcasts, or books to read — our focus is on your individual business needs. We meet once a month in person, offer live hangouts to answer questions, and also offer weekly Mastermind groups.
It's all about spreading that Hoosier attitude throughout the Circle City of Indianapolis!
Beginning an Amazon Business
If you've ever considered working from home using ecommerce to create income, Amazon is the platform to be on. If making money online attracts you, being your own boss attracts you, then consider joining our group.
This is not one of our Entrepreneur members, but this video gives you an example of what might happen to you. The fashion design industry is not an easy niche to crack and Amazon helped her do it!
[svpVideo v=1]
Trustworthy Support for Your Amazon Business
Here's some tips to know ahead of time:
Yes, we are advanced sellers.
Yes, you may feel overwhelmed at your first meeting! But, we tell people that it's like taking a foreign language — every time you attend, it gets easier and easier.
Yes, you really can make money from home using Amazon.com
We are patient and RARELY offer something for sale at a meeting.
Join Indianapolis Amazon Sellers
Here's a screenshot of sales that one of our members shared:

Come learn the truth about how to be a success on the Amazon selling platform.
Join our free group
Learn how to find the Best Selling Products to build an Amazon income
Hear 4 ideas of where to find profitable products to sell on Amazon
Discover how Amazon FBA works to use Amazon as your Warehouse and Fullfillment Center
Grow and expand by going beyond Amazon, hiring Virtual Assistants, or selling on other platforms.
We've an experienced leadership team that consists of actual sellers. Selling on Amazon is our primary business! Click Here to Join Indy Sellers
NOTE: Amazon Sellers Indianapolis is not endorsed by Amazon.com but an experienced group of individuals that participate in the programs offered through the Amazon selling platform. You will find associate links to Amazon products on this website, which is just one example of how to make money using one of their pathways to income.