FAFSA 2017-2018 EFC formula
|
FAFSA Educational Tips and Resources Guide for Parents
This page is for owners of How You Can Maximize Student Aid to keep up-to-date on changes since the last printing.
If you are looking to use the FAFSA to further your education or the education of your child, it can be helpful to understand how the formula is computed. The greater understanding you have behind the impact of each question on the FAFSA, the greater prepared you can be to receive the maximum amount of aid possible from the federal government.
2014-2015 FAFSA Changes
Beginning with the 2014-2015 FAFSA, a dependent student will be required to include income and other information about both of the student's legal parents (biological or adoptive) if the parents are living together, regardless of the parents' marital status or gender.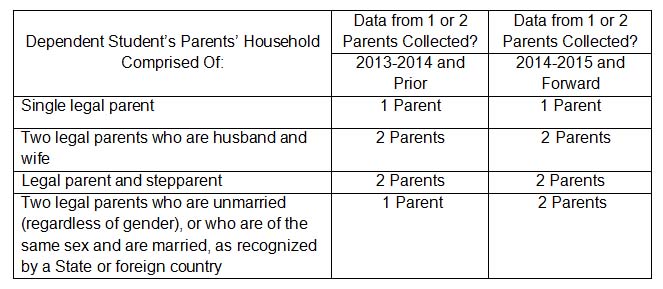 [svpVideo v=1]
2012-2013 Automatic Zero EFC Income Threshold Changed
In December of 2011, Congressional approval of the Consolidated Appropriations Act in late December 2011 resulting in changes to the Automatic Zero income thresholds:
"New for 2012-2013: The income threshold for an automatic zero EFC was initially communicated to have increased from $31,000 to $32,000 for the 2012-2013 Award Year. Because of legislative changes in December 2011, this amount was decreased to $23,000."
Articles recommended by How You Can Maximize Student Aid
Student Aid Links
[svpVideo v=2]