Mass Planner Social Media Software
Mass Planner Reviews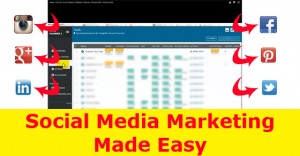 I've been with MassPlanner social media software since Version 1 and found it extremely easy to use.
Originally, I was looking for something to help schedule Pinterest Pins, but my goals grew so much more when I saw all the features that Mass Planner provided.
Mass Planner is now in Version 2, adding Google Plus, Instagram, and LinkedIn to the included networks. It already contained Facebook, Twitter, and Pinterest.
Version one contained three screens to sync your social media accounts. Now, there is only one screen. This is awesome because you can schedule posts to multiple locations with one entry. Every click on your computer adds up. Version two saves you tons of time!
Here is a video that shows all the different screens, a quick orientation to what you will see when you use the software.
This is not a tutorial. The developers have already created a series of tutorials to help you set up quickly. This is to show you a quick overview of screenshots so you can decide if you want to test out this tool.
[svpVideo v=1]
More videos to come. We're going to focus our videos on strategy — how to use this scheduling tool to grow your list, improve your interaction, increase followers, but most importantly to bring you traffic. After all, it's not really about the numbers — but a bout the click through, the call to action.
Click Here to Subscribe to Upcoming Videos
Click Below for Your FREE Trial of Mass Planner
Follow our Mass Planner Board on Pinterest
Follow Kids and Money Today's board Mass Planner Review Tutorial on Pinterest.
About The Author
Kids and Money Today
Tracy Foote Author | Writer | Entrepreneur | Internet Marketer "I'm enthusiastic about helping people in business and finance — so they can have money available for college, retirement, and travel."