Zazzle Social Media Marketing: Posting to Facebook
|
Autopost Zazzle to Facebook
Part of your social media marketing strategy should include automation of Zazzle to Facebook: your product posts created on Zazzle, posted directly to your Facebook business page.
Use If This Then That (IFTTT), a FREE platform to create Recipes connecting one action by a user on the Internet with another. Each Recipe has a trigger that sets the second autoposting action into motion.

In this tutorial we will guide you on the recipe creation to send your Zazzle design over to Facebook with an image, no price, and a referral url link back to Zazzle.
It's great to have automated earnings… while you sleep, go on vacation, travel, or just spend more time with your family.
Schedule Facebook Posts of Zazzle Product Items
To create an automatic schedule for your Zazzle designs, you will get best results if you have:
An IFTTT account: Sign up for one here
A Zazzle account
A Facebook Profile
A Facebook Business Page
A RSS Feed properly coded for Zazzle item posts: See tutorial here
Keywords: one to two keywords conveying the overall theme of your shop
The first step is to connect your IFTTT account to your Facebook Page. When you begin to create autoposting on IFTTT, you will be prompted to connect the applicable social media network (if it is not already connected).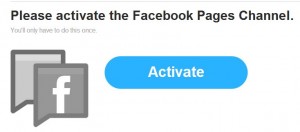 If This, Then That is very easy to use. Their website guides you through a series of clicks. The only tricky part is choosing what ingredients will appear in a Recipe.
If you need help creating your RSS Feed, we have a blog post here
[svpVideo v=1]
Watch on YouTube or Subscribe to us on YouTube
Zazzle to Facebook IFTTT Recipe
If you schedule posts using the recipe (below left), you will have:
Referrral Link: The first link retains your associate referral and tracking code. (Often shortened links like the bit.ly are tested using http://www.LongURL.org, but in this case we found that while LongURL did not show a referral or tracking code, our Zazzle sales reports recorded a referral. We tested this by making a purchase through the link from a different Zazzle user, signed in at another computer.)
Image Link: An image link to the Zazzle item (in this case, the link does not retain your referral link or tracking code)
Hidden Price: No price is shown in the post update (below right).
Since the image link does not include a referral code, you may wish to only use this for your own store items.
Display a Price: If for some reason you DO WANT the price displayed, add the ingredient "Entry Content" to the Message part of the ingredient. The Facebook update will then look like this: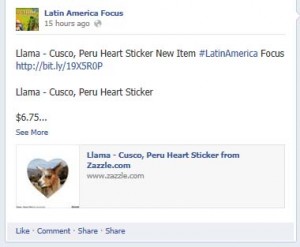 If you are logged into IFTTT, you can click the mixing bowl below to automatically copy this Recipe into your account. ***Before you use the Recipe, remember to adjust the RSS Feed coding. Change our affiliate referral number to your own and change the query string to a keyword of your choice. You can also copy and paste in your own specially coded RSS Feed. There are numerous variations possible.****

*New* You might also add your Zazzle shop URL into the message section. Type in: http://feed.zazzle.com/YOURSTORENAME/rss?at=000000000000000000&tc=FB and replace all the zeros in that URL, with your referral code. The FB is for Facebook, as a suggested tracking code, but you may replace it with your own. This will give you an additional link that retains your referral code and may help you reach your Zazzle volume bonus.