Merch Wizard Air Table – Chrome Extension App
|
Merch Wizard Chrome App Review
What is the MerchWizard Chrome App?
This is a BRAND NEW Google Chrome app (with a monthly fee) that allows you to integrate Merch Data with Air Table. Here's a quick cheat sheet – list of benefits of using this extension.
(Last updated: 9/26/2018 – Version 2.2 Released!)
Quicklinks
Cheat List of Merch Tool Benefits
Translation: Translate Merch Amazon Listings from English to German. The extension will take your Amazon.com listing information and translate it so you can properlt list on Amazon.de platform.
Cloud Access: If you load your full resolution PNG files, you can access your designs from anywhere. Great for those who travel – wanderers, digital nomads, and expats.
Data – FAST: Quickly add data into an Air Table spreadsheet (very similar to Excel or Google Sheets, except this is a database)
Upload: Fast upload of new Merch Listings -> Even faster when you use data from a prior listing.
Edit: Edit existing listings,
Monitor Reviews: See reviews for your t shirts, long sleeves, hoodies, sweatshirts, and popsockets,
Trademark or Compliance Search: When a new word gets Trademarked (TM) or if Amazon suddenly declares a new rule (like don't use "made in the USA"), then you can use the short code computer search (CNTRL+F on a PC) and quickly identify any shirts that used these words. So much better than reviewing all your listings!
Analyze: Compare sales revenue based on product type, color, cancelled tees, returned shirts, and more
Promote: Easily grab all your ASIN URLs to promote to Social Media
Relist: Quickly relist expiring shirts; tweak the bullets as you do so
Download: Use the extension to download your full resolution PNGs from inside AT and use this quick access to re-upload or add to other platforms.
VA Design Table: Separate "Design" table included for you or your Virtual Assistant to add full resolution designs. (You can also just keep your designs in the main "Listing" table.)
Foreign Marketplaces: Yes, it works for international selling on UK and DE platforms.
Customizable: Keep all the main heading titles, but add your own Tables and Fields as you see fit.
Reasonable Price: The extension monthly fee is way less that you would pay a Virtual Assistant (VA), or yourself for that matter, to create this by hand.
Pay as you Grow: Air Table has a free plan, so beginner Merchers can get started quickly. The FREE plan has plenty of room to grow, unlike other free plans where you can't even get your feet wet before you're forced to upgrade.
Multiple Merch Accounts: If you have multiple Merch account holders in your household, and you share a computer, you can use just one license to work with both accounts. (The account bases would use separate API keys – see more on this below.)
Facebook Group: FB Group included. Active members sharing knowledge above and beyond Merch. Think all Print on Demand (POD) sites. Growing community of knowledgeable users.
NEW in MerchWizard 2.2
MerchWizard now captures Date Product Listed on Amazon.
MerchWizard now captures Marketplace.
MerchWizard now captures Currency.
New tables for "New Listings", separate from the current live "Listings" table.
New scaled designs table to help scale out listing data easily functionality.
Get your FREE Air Table account by clicking here.
Get the Merch Wizard extension, by clicking here.
*Check back for updates to this blog post – bookmark this page 🙂
Air Table Strategies for Merch by Amazon
Combine the app with the Air Table (AT) features to take action:
Grouping: Use AT grouping to sort your data in a variety of ways.

Group by product type: review prices. Did you forget to raise some? Some sellers start with a low list price, and then raise the price after the first sale. This will catch items you may have missed.
Group by reviews: Market the 5 star review shirts more.

More tips coming! This was just released in September 2018… check back as we add more 🙂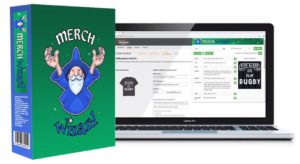 Merch Wizard Air Table – Advanced
It's not so much that this is advanced, but that's the best word till I come up with a new one. This is just implementing time consuming steps that hopefully result in higher level data, that may save time in the long run, and/or give you information to grow your business faster.
Add the PNGs: You or a VA can drag the original PNG files (4500 x 5400 shirt, hoodie or Popsocket sizes) into the Listing Table or into the Design Table. While time consuming, the advantage will be the future time saved if/when you ever have to relist the design or if you wish to send the design to another POD. You won't be searching your laptop, tower, or external drive to find the .png file. This also places your designs in the AT cloud, so access them from anywhere!
UK and DE Listings: Take the time to either add the UK and DE listings to the same Base, or create separate Bases to hold this data.
Separate Bases: Stay organized. Consider creating a separate base for each marketplace or even by niche. You will need to have a separate Table API key for each one and you can do this at no extra cost.
Alternate Views: Before you create separate bases, be sure to explore the alternate view options. You may be able to create the "look" you want for particular data by just creating a new view.
Quicklinks
Go ahead and get the Air Table first. See what one looks like. Explore it and then come back to grab the extension.
*All links are affiliate links, but have no impact on the price you pay for Merch Wizard.
Merch Wizard Manual
If I was going to write a book on MerchWizard, this would go in it 🙂
– These are ideas from the Facebook Group, plus more of my own coming…. so bookmark this page and check back!
Here's a draft of ideas on how to get started with MerchWizard (AFTER you connected and downloaded your tees):
Search for any TOS violations (Use Cntrl + F on your PC and enter a word to search for)
Update sales stats and see which are best selling listings. Get them up on other PODs for Q4!
Look for listings with reviews on. Go check them out.
Organise listings into niches so I can analyse which niches are selling well.
Sort listings by product type and price, filtering for ones that have sold. Probably up the price on the low ones ….
Create a view of products not yet uploaded to redbubble (top sold shirts) and go through and upload them.
Associate my PNGs to the listings so I never have to search for them again.