Teens Earn Money Working Election Polls
|
Teens Earn Money Working Voting Booths
Times are hard, especially for teens. The American economy is struggling and reportedly, if teens don't have a summer job by early June, they will have little luck securing one. All things considered, there has never been a better time to focus on kids, income opportunities, and creative ways to relieve pressure on family finances. Let's help teens earn money.
While the idea below is not a summer job, it's easy cash for teens.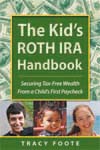 This tip came from one of my three children. After I had gone to bed one night, my eldest daughter popped in and said, "By the way, I will be missing school on Tuesday to work the voting polls. Don't worry, it's an excused absence and I get paid $70." Then, she hastily walked out.

Not so fast!
She knows I'm author of The Kid's ROTH IRA Handbook, so she suspects (correctly) a financial discussion will evolve. Despite the late hour, she didn't get away so easily. She had my full attention and I was asking questions.
Here are the answers:
Teens CAN work the election polls. Poll worker tasks involve checking IDs, monitoring signatures, providing directions, and answering minor questions.
Schools may treat it as an excused educational absence. (Check with your school.)
Teens do not need a work permit because students are not 'hired' but instead they work as independent contractors (self-employed individuals).
Teens must provide identification, including a Social Security Number, and if annual income requires it, file taxes.
There are no age restrictions, but 16 years and older is the preference.
(And yes, adults can work the polls too, another fact that most likely contributed to my teen's underhanded, late-night notification approach to avoid my involvement. Her biggest fear – I might want to work the voting polls with her!)
It was a teacher at school who notified my daughter of this educational income opportunity. Working election hours is long. She had to report at 6 a.m. at the local firehouse in casual dress (jeans and a sweater were fine), and she was released about 6 p.m. This unusually long day did include breaks. In her case, they also provided a lunch, but this might have been a 'treat' offered by the person in charge of the poll station and may vary depending on your state and district.
This was the fastest (just a one day commitment), easiest $70 she ever earned. She also learned we all have to wait for our paycheck; hers came over 30 days later!
If your teen needs or wants to earn money for gasoline or shopping, or perhaps you do, call your voting district. Ask if they are hiring to work the polls on election day, what their upcoming calendar schedule is, and if your name can be added to the poll worker contact list for this part-time job. The hourly wage may be very low, but in this tough economy, every dollar counts.
Here are some more kids taking part in voting polls: