Girls Money Business – Tween Girls and Money
|
A Smart Girl's Guide to Money: How to Make It, Save It, And Spend It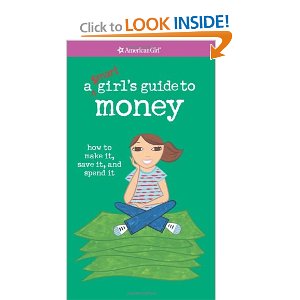 When my daughter was age 11 and read A Smart Girl's Guide to Money, she immediately turned to the 101 moneymaking ideas.
Unfortunately, she was "smart" enough to point out that it really wasn't 101 unique ideas.
For example: Decorate tins for Valentines day (#98) is similar to #99, #100 and #101 which are to decorate tins for other special days. I explained that while she was correct, this is a good example of how an idea can have different uses. Often one idea leads to another. She seemed satisfied with that answer and quickly moved on to "How to get a raise" in the children's allowance section.
I was impressed at the succinct ways in which ideas are expressed. This style makes it an easy read and it hold's children's attention. The book includes:
Many different emotions associated with money – such as those encountered in friendships and partnerships,
How everyone's personality is different – which creates a different spending style
Values of money – good or poor purchases and needs or wants
Budgeting – including plastic money, use of checks with ledger entry, and types of investments
A few quizzes – such figuring out what type of work might be best for you
Don't expect a lot of heavy discussion and explanations. Parental discussions on each section would be a good idea. Discussing finances is a step toward raising financially literate children.
Real life examples will help when teaching kids money. Ideas to discuss with this book are:
Misleading or false advertisings – ask your child to find another example on TV or in a store
How words impact our purchases – Look for other "101 (or 1001) lists" on TV or in stores and decide if they are 100 percent true
Copying ideas of others – Discuss if your child has an idea for a school Halloween project and another student uses the same idea for a Christmas project, is it original? What about if your child sells lemonade for money on one corner and the next week, another child sells punch?
It's up to us, as parents, to relate the financial world in terms that children can understand and connect with. This is what generates interest, thought, and eventually – financially smart decisions.
Looking for a successful young lady, I found this video below. So, now I know what I should do with all the children's drawings I've saved ~~ turn them into some sort of business.
Teen Girls Money Business
Miss O – Juliette Brindak & Jane Henson