Financial Books for Kids: The Toothpaste Millionaire
|
Child Entrepreneur Book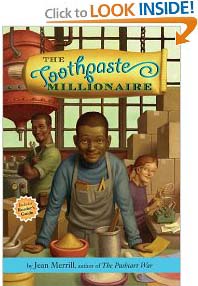 The Toothpaste Millionaire, a brief 144 page book on child entrepreneurship, is sure to entertain while teaching valuable life lessons. I read this out loud to my son (age 9) as a before bed chapter book and I was repeatedly reminded that we needed to "read the book tonight!"
The main character, Rufus, ventures with his fellow sixth grader, Kate, into the toothpaste business. Their start-up business begins with make-it-yourself at home (see video how-to below) toothpaste packaged in recycled baby jars. Later, they buy a machine at auction and venture into a mass production with stockholders. The only thing missing is to invest their savings in a Kid's ROTH IRA.
I am always looking for financial books for kids, especially "how to books" that inspire and motivate children in financial literacy. This entrepreneurship book entertained my child at a steady pace building anticipation to read further each night, onto the next chapter. The final chapters feel somewhat rushed, compared to the first half of the book, but if read aloud together, you can pause, discuss, and answer any questions your child might have. Stocks and company ownership are fairly complex topics for young minds to handle.
I especially liked some of the smaller concepts worked into the story. For example, Rufus sews saddlebags. I favor any opportunity to teach children that tasks can be completed by both males and females. The book addresses the issues of ethnicity and sexism very nicely.
Parents looking for financial books for kids that make price competition, stock certificates, and income taxes fun and exciting – put this on your financial book list. Required reading!
The Toothpaste Millionaire is one of the best stories I've read to spur a child's interest in business, money, and entrepreneurship.
Kid Entrepreneurs – Make Toothpaste
Once you finish reading, consider making your own toothpaste with your child by following the simple steps in the video below. Why not try this kid business idea out by selling to family and friends?
How To Make Toothpaste
Fun Entrepreneur Books for Children
Also on my list of learning books for children, consider: