Avoid Nursing Home Costs
|
Funny Things Kids Say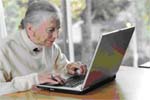 Children constantly surprise us. Occasionally, we are left speechless.
One day my daughter was irritated with one of my valuable parental decisions, and she blurted out, "You'd better be nice to me or I won't put you in a nice nursing home!"
I was momentarily speechless.
My mind was conflicted with two possible responses:
"How dare you speak to me in that tone?" or
"Thank you.  I didn't know you were paying for my nursing home."
I don't really believe children should have the burden of financially supporting their parents, but I have always thought it is easier to Make Your Kid a Millionaire than try to become one yourself.
Would a good plan to avoid nursing home costs be to generate enough money in my children's name so they can foot-the-bill for assisted living?
We have to be careful with this approach. Putting money in our child's name can have detrimental consequences when applying for federal student aid for college as I explain in How You Can Maximize Student Aid.
The key is to learn to save in assets excluded from the federal formula for student aid, such as saving in a child roth IRA or building up the cash value of a child's whole life insurance plan.
But, don't put all your eggs in one basket. There is no guarantee that your child will actually pay for your nursing home!
Perhaps a good response for me would have been to ask my daughter, "Can I get that in writing please?"
Funny Things Kids Say About Retirement
[svpVideo v=1]
Subscribe to our videos: Click Here
Add your comments: What are your best tips to plan for assisted living or nursing homes?
The following two tabs change content below.
KidsAndMoneyToday
Tracy Foote
Author | Writer | Entrepreneur | Internet Marketer "I'm enthusiastic about helping people in business and finance — so they can have money available for college, retirement, and travel."
Latest posts by KidsAndMoneyToday (see all)