Entrepreneur Ideas for Kids
More Books on How to Teach Kid Money Management
You Can Borrow for College – You Can't Borrow to Retire!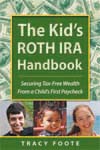 Buy: Kid's Roth IRA Handbook
Securing Tax Free Wealth from a Child's First Paycheck
Teach kids the value of saving at least part of their paycheck in a Roth IRA, plus the "real" cost of spending money from their saving accounts.
---
---
---
Kid Entrepreneur
The Toothpaste Millionaire
Likable, clever, and inventive sixth-graders Rufus Mayflower and Kate Mackinstrey develop and sell toothpaste to become millionaires in just one year! This fun, breezy story includes many real-life mathematical problems which the characters must solve to succeed in their budding business.
---
Another engaging kidpreneur book:

The Amazing Days of Abby Hayes: Have Wheels will Travel
Abby Hayes is sick of using her sister¹s battered old rollerblades. She is determined to buy herself a brand new pair with purple wheels. But no matter how much money she earns doing odd jobs, she always seems to spend her profits on other things. Will Abby ever stick to a plan to save her money?
---
The Rich Kid
The story in this book is about a boy named Cameron who learns there is more to money than just asking Mom and Dad for it. Cameron starts earning his own money to buy the toys he wants. during his various jobs he meets other business men that teach him about business and how money works and how Cameron can make money work for him. Because Cameron's parents where very involved with what he was doing they taught him to save money for college and also save money to give to charity. Cameron begins to realize that charity work is more fulfilling than any toy he has.
---

In Business with Mallory
Grade 2-4: Mallory McDonald, now nine, wants the Perfect Purse. Her friend Mary Ann has one, and if they both had one it would be perfect perfect perfect!
The only problem: her parents refuse to buy it. When her grandmother suggests that she earn her own money, Mallory comes up with a host of business ideas.
---
Typical Summer Job for Kid = Entrepreneur Lesson
Lawn Boy
From School Library Journal:
Grade 4 to 7: How to learn the workings of the free-market economy has never been more fun than in this tall tale of entrepreneurship set in Eden Prairie, MN.
When the narrator's grandmother gives him an old rider mower for his 12th birthday, his life changes; he senses "some kind of force behind it." Almost
as soon as he figures out how to run it, the boy is in business.
---
Beginner Investment Concepts

Growing Money: A Complete Investing Guide for Kids
From School Library Journal:
Grade 4-8: A clear explanation of the theory behind investing and compound interest. Related terms are introduced and defined throughout the volume and
anecdotes citing companies familiar to children (e.g., Kellogg's, IBM, Coca-Cola) often illustrate principles. One chapter is devoted to deciphering a
financial page in a newspaper. Sample forms illustrate how to record income, withdrawals, and savings, and quizzes measure knowledge and risk tolerance.
Black-and-white cartoons and several charts accompany the text.
---
More on Investing for Kids

The Young Investor
From School Library Journal:
Grades 6-9–Starting with homey stories and personal examples, Bateman demonstrates how to learn about investments from everyday experiences.
Using current examples such as CD boom boxes but without fancy graphics, she explains the "money circle," an excellent way to characterize the
circulation of wealth; mentions bank accounts; and then provides a concise summary of savings vehicles, including an account of the "magic" of
compound interest, illustrated by a table and a story of a successful young investor. As Bateman covers broader and deeper topics such as risk-tolerance,
stock reports, and macroeconomics, she follows the same pattern in each chapter. Constantly referring to points made earlier, the author provides plenty
of opportunity for review and concludes each chapter with another account of the young investor's story-he ends up with his own land and hopes for a house on it.
---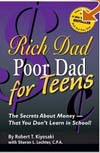 Rich Dad, Poor Dad for Teens
From School Library Journal: Grade 6 Up. Kiyosaki, a bestselling author for adults, has specifically targeted teens in his attempt to promote his
philosophy. What makes this book unique is his approach to how he thinks about accumulating wealth and about having money work for the earner. "Poor Dad"
accepts the notion that he will never be rich and thinks that "money doesn't matter." "Rich Dad" thinks that "money is power." Teens are encouraged to be
creative in developing ways to earn cash and to limit spending. A chapter on identifying individual strengths and learning styles while developing a
financial IQ on the path to financial freedom is a lesson for any age. Sidebars and quizzes promote individual ideas and concepts. Teens will be attracted
by the notion of playing games to learn more about acquiring assets and managing money. The glossary clearly explains financial terms.
---
Teach Older Kids – Young Adult Money Management:
Parlay Your IRA into a Family Fortune
Ed Slott is without a doubt "one of the country's leading IRA experts" (Reader's Digest). Appearing at a time when virtually everyone is concerned
about retirement savings, this authoritative thoroughly accessible book presents an easy-to-follow plan for making money, a lot of money, with your IRA.
Slott shows readers how to choose the right financial advisor, manage vital information and deadlines, and create a retirement fortune that will not only
benefit the individual, but continue to enrich beneficiaries for generations. This powerful, straightforward tool is the book for Americans interested in
creating a fiscal windfall for the future.
---